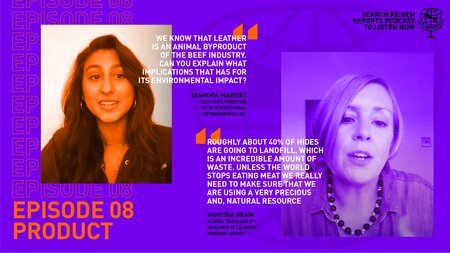 In a recent episode of PUMA's RE:GEN REPORTS podcast series, titled "Can sustainably sourced leather help save the rainforest?", Diandra Marizet, a US-based environmental justice advocate, delves into the concept of traceability with Vanessa Brain, Senior Traceability Manager from Leather Working Group (LWG). This thought-provoking conversation sheds light on how visibility over the supply process can foster a better relationship between our ancient forests and the leather industry.
The RE:GEN REPORTS podcast series is a result of PUMA's Conference of the People, held in London in September 2022. It aims to bring PUMA insiders and industry experts together to explore various sustainability themes. Each episode offers a unique perspective on PUMA's ongoing efforts towards their 10 for25 sustainability goals, while also showcasing collaborations with the wider fashion industry to create a more sustainable future.
Vanessa Brain highlights the significance of traceability in the leather industry, emphasizing the importance of understanding the origins of leather and ensuring sustainable sourcing practices. PUMA has been at the forefront of this movement, being one of the first organizations to sign up to LWG and Textile Exchange's recently launched Deforestation-Free Call to Action for Leather.
Through their commitment to developing traceability, PUMA is actively working towards minimizing the environmental impact of their products and paving the way for a more sustainable future.
The RE:GEN REPORTS podcast series serves as a platform to discuss both the progress and challenges faced in achieving sustainable practices. It offers listeners an opportunity to gain insights from industry experts, empowering them to make informed choices as consumers.
The podcast is available to listen on Spotify and Apple Podcast.