Leather Working Group has had traceability goals at its core since we first started our work in 2005, with our ambitions set high to achieve our aim of 100% deforestation and conversion-free leather by 2030. Here's what members can do to play a part:
Join the Traceability Working Group – to discuss and input on specialist topics including Deforestation, Chain of Custody development, and Regional traceability

Participate in surveys and consultations on the development of our traceability assessment and due diligence requirements in the LWG standards

Collaborate and partner with us to drive innovation and progress in traceability for leather
The LWG Traceability Roadmap sets out our milestones, activities, and ambitions for our traceability work for the coming years.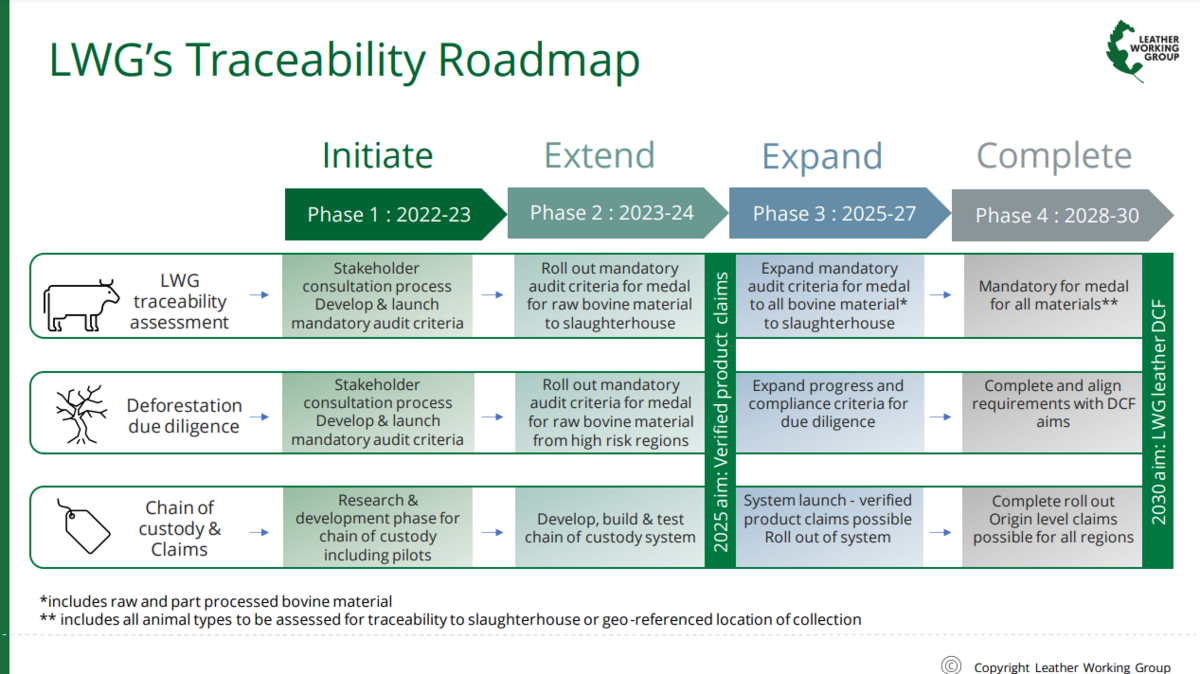 How is Traceability assessed?
As part of the leather manufacturer audit the proportion of material that is traceable to the slaughterhouse, group of slaughterhouses or point of collection(for informal supply chains) is assessed and scored.
There are 4 types of traceability recognised for this:
Physical traceability means that material is traceable to an individual slaughterhouse through physical marking (eg stamp or laser mark) on the hide or skin
Documented traceability means that material is traceable to an individual slaughterhouse through documentation
Group traceability means that material is traceable either though physical or documented means to a group of supplying slaughterhouses
Regional traceability means that material is traceable to a geo-referenced point of collection. Applicable only to informal slaughter, regional traceability is not applicable in the following regions:
Australia & New Zealand

China

Europe, including UK

North, Central & South America
What is the LWG Traceability score?
The current traceability score shown as part of the leather manufacturer information on the LWG website is the total percentage of material traceable to a specific slaughterhouse, or a group of slaughterhouses or region of collection for all types . This will in the future be updated to show a breakdown of the traceability by type.
Traceability is currently a scored section of the leather manufacturer audit which contributes to the overall score obtained, and can affect the medal rating achieved, however it is not currently a critical section directly affecting the overall medal rating. It is planned for traceability to become a critical section in the next major update to the leather manufacturer standard.
Get involved today
For more information and to get involved with Leather Working Group on traceability in the leather supply chain, please get in touch.