Leather Working Group members have a say in shaping the future of responsible leather manufacturing.
Our membership brings together brands and retailers, suppliers to the leather industry (chemicals, machinery, testing), agent traders, groups and associations, and NGOs and CSOs. In addition, all certified manufacturers are granted immediate membership to the group after a successful audit result.
Our community represents the largest single leather-focused group in the world, joined together through the shared goal of reducing the environmental impact of leather production on people and the planet. Companies that do not conduct any manufacturing or trading are eligible to join Leather Working Group through our direct membership route to support our efforts.
Brands & retailers
Suppliers of chemicals, machinery, testing, etc.
Agent traders (traders without a warehouse)
Groups & associations
NGOs & CSOs
Finished product manufacturers
What are the benefits of LWG membership?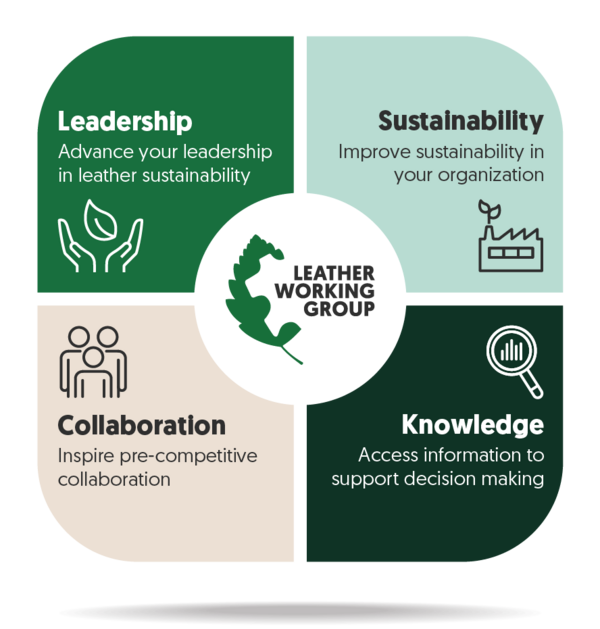 Advance your leadership in leather sustainability
Work collaboratively with leading global stakeholders in improving the sustainability of leather
Provide expertise and share ideas inworking groups and projects
Participate in virtual and in-person meetings
Sponsor and nominate experts for discussion panels and events
Improve sustainability in your organization
Share learnings and challenges experienced by other stakeholders
Consider insights and viewpoints with cross-sector collaboration
Adopt new best practices within your own organization
Inspire pre-competitive collaboration
Participate with others in guiding initiatives for the benefit of the industry and the planet
Actively engage to advance excellence in leather sustainability
Uphold marketplace growth and balance
Access information to support decision making
Share in the scientific research and analysis of LWG and partner organizations
Explore and utilise metrics vital to the industry and to your own business needs
Access reputable studies that you can trust