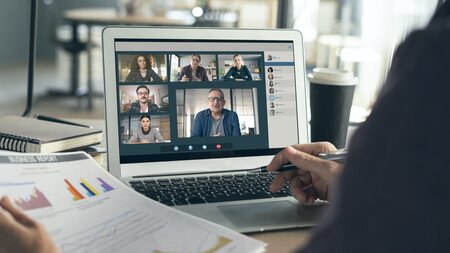 Leather Working Group (LWG) held a virtual stakeholder meeting over two days on early May. The meeting aimed to give attendees the opportunity to learn more about LWG's ongoing work and plans for the future, and was attended by over 450 stakeholders. It featured speakers from across the LWG team, as well as the global stakeholder community.
Future direction and strategy
Ian Scher, Chair of the LWG Executive Committee, kicked off the meeting with a summary of LWG's future direction and strategy: First was an overview of the significant growth and influence of LWG membership worldwide. LWG-certified sites now account for almost 30% of global finished leather production, and the organization remains dedicated to promoting sustainability and responsible leather production throughout the supply chain. Also outlined was the expansion of LWG's standards to include social responsibility, governance, chemical management, health and safety, and traceability, addressing critical issues such as deforestation and protecting indigenous populations.
Ian highlighted that collaborations with industry organizations, key stakeholders, and NGOs, are important to the success of LWG's mission – especially considering major ongoing projects such as the development of a comprehensive chain of custody and the upcoming standards redevelopment due to be released in 2025. Also in the pipeline is the development of a new five-year strategy for LWG's future direction, which will be finalised later this year.
Key to our organization's development is the input of our stakeholders. As such, Christina Trautmann, Head of LWG, presented a selection of results from the LWG Annual Member Survey for 2023. This year had an excellent response rate with a response rate of 50% from brands & retailers, suppliers, and affiliate members, with leather manufacturers coming in at 35% but representing the largest in numbers. The results included clear priorities for LWG to work on a number of important developments, such as a chain of custody solution for leather, to include social responsibility within the scope of the LWG certification, to introduce a carbon footprint calculator, and to conduct a lifecycle assessment for leather – all of which and more are already well underway, reinforcing the direction of work for the organization.
Membership update
Next up was an update on our membership base and collaborative partners. Marius Saunes, LWG Stakeholder Engagement Manager, was pleased to share that LWG welcomed 80 new members for the 2022/2023 membership year, with 8 having joined so far for the 2023/2024 membership year which started on 1 April.
LWG meetings
The membership update was followed by an update on our plans to re-establish regular global events, which will give us an opportunity to reconnect again properly post-pandemic. Adam Crowe, Senior Operations Manager at LWG, shared that we will be changing our approach slightly. From the 2023/2024 membership year, 3 Regional Meetings will be held each year, rotated across 6 key locations across the Americas, Europe, and Asia.
The Regional Meeting in Brazil on April 24 was the first of these 3 meetings. The European Regional Meeting will be on September 21 in Milan – details to be published soon. The Asia Regional Meeting will be timed to coincide with the APLF exhibition in March 2024 in Hong Kong, exact date and location to be confirmed.
Traceability, chain of custody & animal welfare
Traceability is a key priority for LWG, and there were many interesting developments to highlight. Vanessa Brain, Senior Traceability Manager at LWG, kicked-off this topic with some insights from the 2023 survey on drivers for developing traceability. For brands and retailers, their top 3 drivers were animal welfare, deforestation, and social concerns. For manufacturers and traders, their top 3 drivers were quality management, customer demand and animal welfare.
Vanessa then provided a summary of the LWG Traceability Roadmap, which breaks down our plans and targets for traceability work into four phases leading to the 2025 aim for verified product claims to be possible, and the 2030 aim for all material from LWG sites to be deforestation and conversion free.
In addition to this, the Deforestation Free Call to Action for leather was introduced, which is an initiative being launched in partnership with Textile Exchange, asking brands and retailers to commit to source all their bovine leather from deforestation free sources by 20230 or earlier. There are range of resources available to support the process and the public launch is set for June 14th.
Olivia Wass, Sustainability Associate, went on to discuss how the Animal Welfare group has now officially been integrated with the Traceability Working Group. This is a significant initiative to make the valuable resources that have been developed by this group more widely available for all LWG members, who can now access them in the user area of the LWG website.
Audit certificates and website listing
Marius then took the stage again to share an important announcement on certificates. The certificates for leather manufacturers are now available for each facility to download from the user area of the LWG website. This will soon be rolled out for the other certified suppliers as well as making the site-specific certification logo, which includes the URN, available in the same way. When these are available the certificates and URN logos will no longer be issued by email.
A second important announcement followed this. To ensure all certifications can be publicly validated via the LWG website and to support future collaborations, it will become a requirement from 1st September 2023 that all certified suppliers are listed on the LWG website.
Standards & assurance
Having previously been launched in September last year, the LWG Supplier Scorecard for leather manufacturers was presented Stuart Cranfield, Head of Standards and Assurance. The LWG Supplier Scorecard is an incredibly important development for LWG and the entire stakeholder-base, as it signifies the first step towards increasing audit transparency and access to those that need it to support their science-based targets reporting needs. The first level that is available now in the user area of the LWG website, provides insights into the performance of a leather manufacturer on each section in the LWG audit. The LWG Supplier Scorecard is available to all LWG stakeholders to request through the user area of the LWG website, and access to the LWG Supplier Scorecard for a leather manufacturer is managed and controlled by that facility.
In addition to this, Stuart also talked about how we are working to align the LWG audit processes with the ISEAL Codes of Good Practice to be able to demonstrate the credibility and independence of the LWG Certification. This work is being developed through 2023 and 2024.
Chemical regulations
Martin Kleban, of TFL Ledertechnik GmbH, then provided updates on chemical regulation, focusing on Glutaraldehyde and Bisphenol and whether these old chemicals could become a new issue in leather manufacturing. There is a concern that, if finalized as currently proposed, the restrictions could have a massive impact on the global leather industry.
Sustainability
Over the past 17 years, Leather Working Group as an organization has been driving improvements in the industry which has contributed to a more sustainable leather manufacturing. Christina explained that our ongoing work on the LWG strategy for the next five years will define how we build on this and improve to achieve an even greater positive impact.
In the meantime, recognising the urgent need to improve the information available on the environmental footprint of leather, LWG took the initiative in late 2021 to commission a Life Cycle Assessment (LCA), focusing on leather manufacturing. The study was undertaken by Milan consultancy, Spin360. This ambitious, large-scale project is the first of its kind, and covered 50 different products across 5 key product families. All tanneries that participated are LWG certified. A wealth of information can be gained through this work, such as hotspot analyses, which illustrate the relative scale of impacts by environmental aspect, and comparative analyses between different leather and tannage types. Next, we plan to define clearly how we are going to share and use the results from the LWG LCA, and then also decide on what will come next.
Questions? Please contact us.
Check this page for our future events.