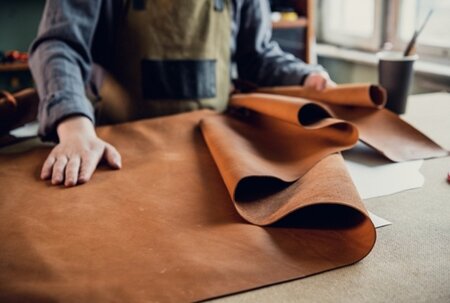 Register for our webinar here.
Leather Working Group will be joined by experts from the FILK Freiberg Institute on 1 February 2022 to deliver a webinar on the technical performance of leather as a material, compared to the performance of non-animal, bio-based materials.
Event title:

Leather & synthetic substitutes – a comparison of animal based and vegan alternative materials
Event description:

With the ever-growing focus on sustainability and responsible production across the globe, the leather industry is under pressure to demonstrate the performance and impact of leather as a material.
In 2021, the FILK Freiberg Institute published a study investigating the technical performance of leather used for shoe uppers vs. nine alternative materials, including Desserto®, Kombucha, Pinatex®, Noani®, Apple- skin®, Vegea®, SnapPap®, Teak Leaf®, and Muskin.
After characterizing the structure, composition, surface properties, mechanical performance, water vapor permeability, and water absorption of each material, the study found that none of the leather alternatives had the same performance of leather. In addition, no leather alternatives could achieve the same structure as genuine, animal-based leather.
During the webinar, Dr Michael Meyer will present selected findings of the study in more detail and give a scientific-based assessment of the materials with reference to their structure and related technical performance.
Join LWG on Tuesday 1 February 2022 to find out more about the FILK study and understand how leather compares to non-animal based alternative materials.
Date / Time:

Tuesday 1 February 2022

9am EST (US, East Coast) / 2pm GMT (UK) / 3pm CET (W. Europe) / 7.30pm IST (India)
Speakers:

Dr. Michael Meyer, Scientific Director at FILK Freiberg Institute

Dr. Sascha Dietrich, Testing Laboratory Director at FILK Freiberg Institute
Registration:

Category: News