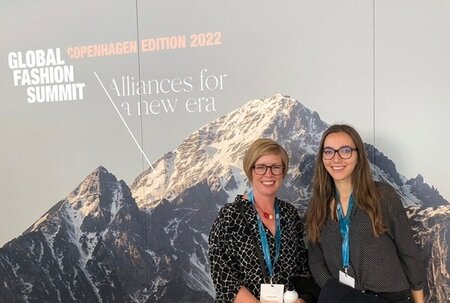 LWG attended the Global Fashion Summit in Copenhagen over 7-8 June 2022.
Vanessa Brain, Traceability Manager, and Oihana Garcia-Chevillotte, Community Engagement Manager, joined stakeholders of the Global Fashion Agenda in Denmark to discuss the theme of this year's Global Fashion Summit "Alliances for a new era".
The key theme of the event included the urgent need for action and collaboration to achieve targets set for 2030, and the need to measure and understand impacts.
Key talking points of the summit were sessions that tackled the realities of the impact of waste and the shocking human and environmental consequences for communities in Africa especially Ghana, where an estimated 15million garments are received every week into the biggest second-hand clothing market.
Along with the future of fashion through digitalization and some practical-oriented discussions with facts and figures on the current state of sustainability in the fashion industry prompted further debate. We welcomed the opportunity to meet with many of our members at the summit and to engage with other contributors to discuss the role of leather as a key material.
As we transition back to being able to meet in-person we look forward to attending upcoming summits to discuss sustainability challenges and opportunities for the leather industry in the context of overarching industry targets and objectives.
Category: News