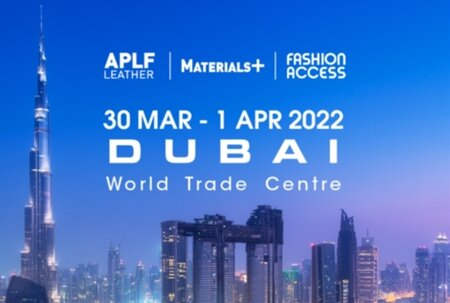 Driving transformational change in the leather industry, launch of World Leather Day 2022, and positive conversations had at APLF 2022 in Dubai.
As part of the return to in-person events, APLF hosted their annual leather fair in Dubai World Trade Center from 30 March to 1 April 2022. As a multistakeholder organization that was originally created to bring business together to provide a solution for responsible leather sourcing, we were excited to see so many businesses coming together from across the sector; an ethos that is at the corium of what we do.
Many of our certified members exhibiting at the fair were clearly communicating their Leather Working Group achievements across through their stand and marketing materials. The LWG team had numerous positive conversations with leather manufacturers, traders, chemical suppliers, and other organizations who wanted to get involved with our initiatives and support our efforts in creating a more sustainable and responsible leather industry.
As an industry thought leader who drives excellence in leather and represents 25% of the world's finished leather production, Leather Working Group was invited to give a speech at the media press conference on the opening day. Christina Trautmann, Head of Leather Working Group, spoke of LWG's on-going mission to drive change cross the sector, touching on our goal of creating a 100% deforestation and conversion-free leather supply chain by 2030. Achieving LWG's long-term goals requires innovation that has never been seen in the leather industry. LWG's world leading projects include:
Leading the largest ever lifecycle analysis study for leather

Undertaking the world's largest leather supply chain mapping project

Being the first in the world to develop chain or custody for the LWG leather supply chain
Christina also spoke about the collaborative launch of World Leather Day, echoing the sentiments of Egbert Dikkers, Chair of the Leather Naturally Management Board and encouraging organisations from across the sector to get involved with the 2023 communications event. LWG believes that through responsible leather sourcing at scale, we will be able to change the narrative, and solidify leather's position as a key strategic, sustainable material.
Vanessa Brain, Traceability Project Manager at Leather Working Group, presented Driving transformational change in the leather industry, which showcased the LWG traceability roadmap that lays the foundations to achieve our vision of a 100% deforestation and conversion-free leather supply chain by 2030. Vanessa spoke on the key challenges presented by the nature of complex supply networks and the landscape of theoretical levels of traceability that are available for both formal and informal supply chains. To conclude, Vanessa talked about how LWG plans to evolve traceability within the LWG Leather Manufacturer audit standard – stay tuned for LWG traceability announcements this year.
Overall, the event was communications success, and it was positive to see so many people from the leather industry face-to-face once again.
Category: News