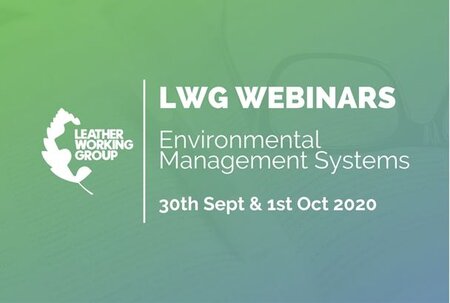 Next up in LWG Webinar Series is an online training on the topic of Environmental Management Systems (EMS) within the context of leather manufacturing and related facilities. The webinar will touch on general best practice for EMS within tanneries, existing standards/certifications, as well as the requirements within the LWG Environmental Audit Protocol.
To date, the LWG Webinar Series has offered training on the following topics:
Audit Administration & Documentation
Risk Assessment & Emergency Planning
CrVI Formation, Prevention & Legislation
Environmental Management Systems in Tanneries
The webinar on EMS will be hosted online using Zoom and delivered twice to allow for attendance from members across multiple different time-zones. The first session will take place at 9am (BST) on 30th September, and the second at 3pm (BST) on 1st October.
The slide deck and a recording of the webinar will then be available to LWG Members only via the Member Area of the LWG website.
Mark Lucas will deliver the webinar, drawing on his experience as an approved LWG auditor and a member of the LWG Technical Sub-Group (TSG). Mark has been heavily involved in the development of the LWG audit protocols since the beginning of the group in 2005.
To register for the webinars, visit the links below:
For further queries, please get in touch with the LWG Administration Office.
Category: News