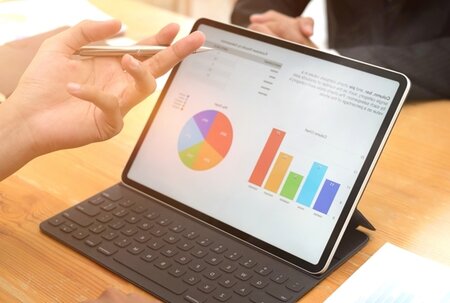 Every year, LWG opens a full membership survey to allow our members to provide insight, answers and the feedback on LWG's work and future plans. The 2021 LWG Member Survey opened in February and was open for four weeks, gathering 336 submissions from LWG member companies, representing a 36% response rate – our biggest response to date.
Challenges for the Leather Industry
In terms of challenges to address, LWG members felt that the growing presence of non-leather alternative materials (synthetic, plant-based, bio-fabricated, etc.), recovering from the impact of COVID-19, and the environmental footprint of leather, were the main challenges.
Key Priorities for the LWG
Getting a steer on how LWG should continue to develop is crucial in identifying where to focus our efforts. The LWG brand members identified traceability as the number one priority, as well as understanding leather's environmental impact and animal welfare. For the LWG certified leather manufacturers, the most important areas for the LWG to prioritise were chemical compliance, social responsibility, and, similarly to brands, understanding leather's environmental impact.
Brand Targets related to Leather Sustainability
Understanding the drivers for change helps us to understand how we can offer the most value to our membership. Our Brand/Retailer Members advised they are targeting improved leather traceability, reduced carbon footprint, increased levels of supply chain visibility, and improving the social standards of their suppliers.
Data Transparency
With over 15 years of audit data at our fingertips, providing more data-driven insights is another key aim of LWG for the future. Our membership advised that data on the level of traceability achievable in a specific region, chemical management and compliance, carbon footprint, social compliance, and the energy and water usage in leather production were most important.
Social Compliance
With the launch of Protocol 7.0, the LWG aims to improve social responsibility in the leather supply chain through requiring a social audit. In this year's member survey, our brand members advised they primarily recognise:
An in-house audit, bespoke to their individiual brand.
Increased Levels of Traceability
53% of LWG Brand Members are targeting being able to trace their material back to the slaughterhouse of origin, or back to the direct supplying farm. The main reasons for brands wanting to improve traceability and supply chain transparency were around concerns related to animal welfare, deforestation, and social compliance. We've already made changes to our flagship auditing standard, the LWG Leather Manufacturer Audit Protocol 7.0, to increase the level of traceability and supply chain transparency in the leather supply chain.
It is important to note that leather manufacturers will be able achieve varying levels of traceability of the raw material, depending on the region in which they are based and the level of commercialization of the farming systems. 62% of LWG-certified leather manufacturers advised they could trace between 75-100% of the total volume of their material back to the raw material supplier, and 43% advised they could trace back to the same volume back to the slaughterhouse. This number reduces the further back in the supply chain you look, suggesting there is scope to improve.
Category: News