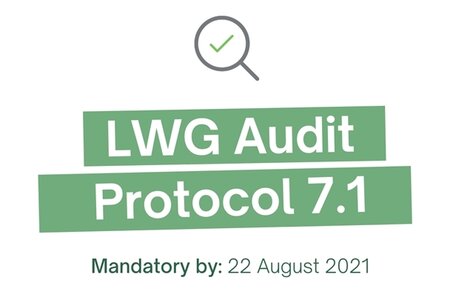 After a six-month introductory period, the newest version of the LWG Audit Standard for leather manufacturers (Protocol 7.1) becomes mandatory for all audits as of 22 August 2021, replacing the existing P6.7.
Protocol 7 was originally published in February of this year, and we have allowed for the statutory six-month introductory period of member consultation and training. Member feedback was considered by the Technical Sub-group and refinements to the audit standard were made, resulting in the publication of P7.1.
The LWG Leather Manufacturer Audit Protocol 7.1 introduces several major changes to how we assess tanneries and aims to provide a more holistic assessment of their performance. Key changes include:
Chemical Management
Previously a standalone assessment, the LWG Chemical Management Module (CMM) has now been fully integrated into the main Audit Standard.
Our requirements are fully aligned with?the AFIRM risk-based?restricted substances list for leather, and all LWG-certified members have been granted free access to the?ZDHC Gateway to help them demonstrate their MRSL compliance during an audit.
Traceability
Developed in collaboration with the NWF, the?traceability section has?undergone significant development to become an integrated scored section, with additional due diligence measures to address deforestation due diligence. We have also included additional levels of traceability to start assessing a broader scope for leather traceability.
With the formation of the Traceability Working Group, and continued collaboration with NGOs, we are planning to develop these requirements even further and increase their relative importance in future versions of the LWG Standard.
Social Responsibility
For the first time, the LWG has introduced social compliance as an audit requirement. To promote industry alignment and reduce duplication of efforts, we will be recognising third-party social audit certifications and verifications, and do not plan to conduct social audits ourselves.
Social responsibility is a critical element of responsible sourcing, and it was a natural evolution of the LWG audit to expand to include social responsibility in addition to our existing environmental scope. We will be gradually increasing the level of importance of this requirement within the audit, and it will become more critical in P8, which we plan to release as early as Q3 2022.
Effluent Treatment
The management of all waste and discharges is a critical part of our assessment, given their direct impact on the environment. We expect a high standard to be met and maintained by all tanners, regardless of the country they are operating in.
For P7, we have introduced stricter requirements for the treatment of effluent, with our criteria differentiating between direct discharge from on-site effluent treatment plants and indirect discharge from central and municipal effluent treatment plants.
For more information about the changes in P7 and access the audit documentation, visit the audit protocol pages on the LWG website.
Category: News