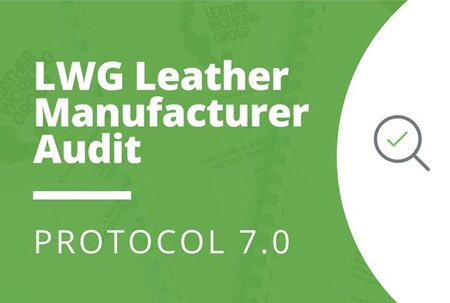 LWG will host webinars on the newest version of the LWG audit protocol for leather manufacturers on 24 & 25 February.
As we get ready to launch Version 7 of the LWG Environmental Audit Protocol (P7), it's more important than ever that our membership understands the changes that are coming in the future.
P7 is due to be launch mid-February and will become mandatory 6 months later. Please be sure to download a copy of the protocol in our member area and review it in detail to understand all the changes.
P7 has been in development for several years, with the initial aim of integrating the LWG Chemical Management Module into the protocol as a mandatory requirement. Since then, the scope of our protocol has evolved to meet the ever-changing demands on our industry and continue to drive environmental improvement.
To help leather manufacturers get to grips with the new requirements of Protocol 7.0, we'll be hosting three repeat webinars late this month, to cover all time zones. On 24 and 25 February 2021, we'll take a deep dive into the new LWG Audit Protocol, detailing what's changed, what's new, and what that means if you're preparing for an audit.
Protocol 7.0 introduces a new chemical management section, aligned with the requirements of the ZDHC MRSL and AFIRM RSL for leather. We've also reviewed our existing traceability standards and increased our requirements going forward. Traceability will now be a scored section. In response to industry demand, the new protocol also features a section on social auditing. And that's not all – there are further amends across all sections and changes to our minimum scoring requirements.
To learn more about Protocol 7.0 and get your questions answered, sign up for one of the three sessions linked below:
24 February 2021 – 07:00 to 08:00 GMT --> Register here
(08:00 CET / 12:30 IST / 15:00 CST / 18:00 AEDT)
24 February 2021 – 16:00 to 17:00 GMT --> Register here
(17:00 CET / 13:00 BRT / 11:00 EST / 08:00 PST)
25 February 2021 – 10:00 to 11:00 GMT --> Register here
(11:00 CET / 15:30 IST / 18:00 CST)
Category: News