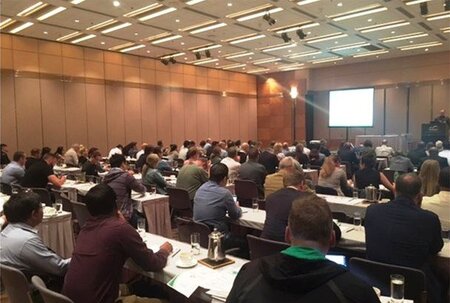 LWG had a busy but productive week in Hong Kong starting with APLF 2018 from 14-16 March. We spoke with over 50 companies, some existing members, others prospective new members and we received enquiries from across the supply chain - from leather manufacturers, brands, machinery suppliers, chemical suppliers, trade publications and auditors and consultants.
We are now in the process of sending information out to everyone who came to the stand and are pleased to report the success of exhibiting there this year.
Friday 16th March saw our LWG sub-group meetings; Trader Working Group, Supplier Sub Group and Animal Welfare Sub Group all met during the morning sessions, with the Executive Committee meeting taking place in the afternoon. These sub-group meetings are a valuable way for the different areas of the supply chain to meet and discuss relevant subjects in an open and collaborative way and the recommendations of these groups often form the basis for the future direction of LWG, being forwarded for consideration to the Technical Sub Group (TSG) and the Executive Committee (EC).
Our main member meeting was held on Saturday 17th March from 9.00 am to 4.00 pm. This year we had 157 delegates who registered and 147 who were in attendance on the day - this is a new record for LWG and shows the value of these events in bringing members together and communicating information on the governance of the group, benchmarking, new initiatives, future direction and industry related subject matter.
The presentations from the meeting are now available in the Member Area of the website here: Presentations
This is a logged in member only area and if you need a reminder of your log in details please email info@leatherworkinggroup.com
Our next main member meeting will be held in Milan on Friday 27th September 2018, from 9.00 am to 4.00 pm. Sub-group meetings will be held on Thursday 26th September so put the dates in your diary and we look forward to seeing many of you there!
Category: News