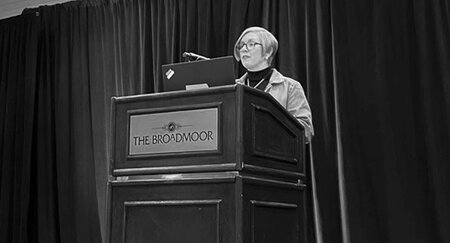 The Leather Working Group team joined almost 1000 other delegates in Colorado Springs from November 14-18 at Textile Exchange's largest yet annual conference which celebrated their 20-year anniversary.
Leather Working Group was the only leather-specific multistakeholder initiative in attendance and played an important role to engage with global stakeholders from both the footwear and apparel industries on the role we play to drive sustainability into the production of leather and our plans to drive transparency forward in the sector.
LWG Traceability Project Manager, Vanessa Brain, spoke as part of the Animal Fibers and Leather Round-Table event sharing insights about the role we can play to develop transparency and work toward delivering deforestation-free leather. She provided an introduction to our ambitions to develop the chain of custody for LWG leather and the call out for industry collaboration to make this happen.
Head of Leather Working Group, Christina Trautmann, was delighted to join Anne Gillespie from the Textile Exchange team to share plans on an ambitious, but essential joint initiative. The two announced a Deforestation-Free Call to Action for Leather which Textile Exchange and Leather Working Group are launching in March 2023. The Call-to-Action challenges brands to commit to sourcing all their leather from verified deforestation-free supply chains by 2030 or earlier. An initiative that is bringing together tools and resources to enable a step-by-step process for brands to make this commitment and put it into action.
The initiative will be launched officially on World Forest Day next March and in advance, we urge Leather Working Group members interested to get involved to contact the team via info@leatherworkinggroup.com, or view the Textile Exchange website to find out more.
Leather Working Group also joined a panel discussion on deforestation-free sourcing, along with National Wildlife Federation and Tapestry, which gave a further opportunity to explain our plans to develop the LWG Chain of Custody for leather and the important role traceability will play to deliver our aims for deforestation-free leather.
Leather Working Group joined other sessions looking at key themes for the industry on biodiversity and how ecosystems are interconnected, measuring the impact of materials, along with the importance of data and how we can work to collaborate across industries to build common metrics and understanding around the impact and difference that preferred materials make to contribute to critical climate goals.
We look forward to continued collaboration with Textile Exchange and our many members that we had the pleasure to see in person. Save the date for next year's Textile Exchange Conference which will be in London from October 23-27.