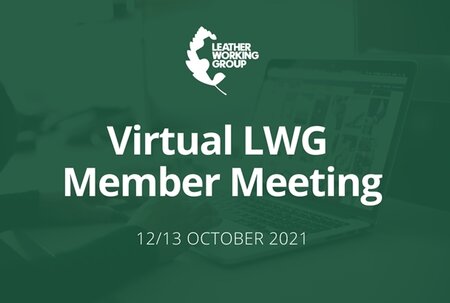 Join the Leather Working Group's virtual Member Meeting this October!
Usually held in-person in Milan — to coincide with the Lineapelle Leather Fair — the LWG will host our fourth virtual Member Meeting on 12th & 13th October 2021 via Zoom. As international travel remains a challenge, we have decided to continue to host our events virtually. We will host two virtual sessions over two days, to allow members to attend at a more suitable time for their region.
Our autumn member's meeting will give members a chance to learn more about the group's activity over the last six months and major changes on the horizon. Specifically, our October meeting will cover:
Updates to the LWG Audit Standards
The LWG Roadmap for the future
Environmental impact of leather
Enhancing traceability in the leather supply chain
The online sessions will last two hours each and features speakers from across the LWG team, our committees, and members from the global leather supply chain. Each session will also include a Q&A panel, where you'll have the chance to get answers to your queries from LWG directly.
Make sure to register for your chosen session below:
Session 1 — Tuesday 12 October 2021
7-10am PDT / 10-1pm EDT / 12-3pm BRT / 3-6pm BST
Register Here

Session 2 — Wednesday 13 October 2021
8-11am BST / 9-12pm CEST / 1.30-4.30pm IST / 4-7pm CST
Register Here
If you have any queries, please get in touch with us directly.
Category: News