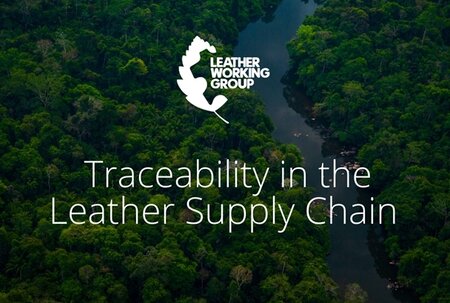 Learn more about how the Leather Working Group is actively working to improve traceability within the leather supply chain.
19 April 2021— For Immediate Release

Transparency and traceability within supply chains are critical, it allows actors positioned in different points in the value chain to have assurances that materials are responsibly sourced, with socio-environmental safeguards required by the marketplace, and they can provide their customers with reliable sustainability claims. Enhanced transparency and full traceability of all types of raw materials is a fundamental building block to ensure that inappropriate exploitation of people and places, and irresponsible use of the finite resources of our planet, does not take place.
Material traceability has been an important topic for the LWG since its inception, and has gained special relevance since 2008, following the Greenpeace 'Slaughtering the Amazon' campaign. The LWG has been working on enhancing traceability and transparency within the leather supply chain through the LWG Leather Manufacturer Audit Standard, in close alignment with expert NGOs, such as the NWF (National Wildlife Federation) and WWF (World Wildlife Fund for Nature).
"The Leather Working Group has been actively and continuously working to elevate sustainability traits and to enhance supply chain governance in the leather value chain for several years. This work has contributed to leather stakeholders being able to deliver on their sustainability commitments in solid and verifiable ways. The LWG embraces an open and collaborative mindset, welcoming multiple perspectives from NGOs, producers, midstream actors and consumer facing companies." - Mauricio Bauer, Senior Director of Beef & Leather Supply Chains at WWF US
The LWG Leather Manufacturer Audit Standard has been developed collaboratively over the years, aiming to drive positive change incrementally, by the phasing out harmful practices and promoting progressive improvements within the leather value chain. The latest step forward in this direction is the launch of Protocol 7 (P7), published on 22 February this year (to become live by Q4 2021).
We are approaching traceability and supply chain transparency in three ways in P7. Firstly, through assessing material procurement to ensure upstream suppliers are also certified and are manufacturing in a responsible way. Secondly, by assessing the incoming material traceability, including new levels to increase the ability of all actors to achieve additional levels of traceability. And lastly, by assessing the traceability of the outgoing material, to incentivize the improvement of downstream traceability with a completely new section of the protocol.
For the first time, we have included incoming material traceability as a scored section in the audit, and plan to progressively increase these requirements in the next iteration of the LWG Audit Standard according to our roadmap. This means that having limited traceability and exposure to deforestation will start to negatively impact medal ratings. This phased approach will ensure that all actors are fully engaged and that we will achieve our goal in a realistic and possible manner.
The LWG's vision for the future is for 100% deforestation and conversion free leather, including all globally threatened geographies. This is why providing assurances for leather production, decoupling deforestation and conversion of natural landscapes from the sourcing of raw materials is a central piece of our work. WWF, NWF and other expert NGOs are closely collaborating with our team in our journey to improve supply chain governance for companies. This work is carried out in a data-driven, science-based manner, as we believe this is the most sustainable way to achieve our goal, fully aligned with the market needs.
We see sustainability as a journey and not an end goal, with plenty of work still ahead of us. We will use the LWG Audit Standard to identify positive actors, especially in geographies where additional due diligence is required. We believe that identifying actors more advanced in their sustainability journey will highlight the positive examples to drive incremental change in a meaningful and scalable way.
LWG will elevate these requirements in future versions of the LWG Audit Standard through continued collaboration with companies and expert NGOs, and using the input from the newly launched LWG Traceability Working Group (TrWG). We are fully open and welcome the opportunity to collaborate and engage with organizations interested in developing solutions to these important issues. Please reach out to us directly to join the discussion.
Traceability – Further Information
To find out more on the new traceability requirements, be sure to sign-up for one of the up-coming webinars or visit our website for more details.
About the Leather Working Group (LWG)
The Leather Working Group (LWG) is a collaborative, membership-led non-profit organization, composed of over 1100 members across the leather value chain, including leather manufacturers, brands and retailers, suppliers, traders, and associations. The group also collaborates with other NGOs and NPOs through collaborative partnerships. The group develops and maintains audit certification standards to assess the environmental performance of leather manufacturing facilities and helps to promote responsible business practices throughout the leather supply chain.
For more information about the Leather Working Group, please visit the LWG website, here: https://www.leatherworkinggroup.com/

Press Contact
+44 (0) 1604 679999
Category: News