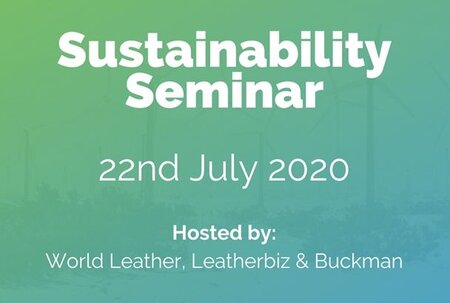 We are pleased to announce that Christina Trautmann, Operations Manager for LWG, has been invited to speak at the virtual Sustainability Seminar jointly hosted by Buckman, World Leather, and Leatherbiz scheduled for later this month.
The inaugural seminar will gather members from across the leather supply chain to discuss key drivers for sustainability, with a focus on how the global landscape is shifting as a result of the Covid-19 pandemic.
LWG will outline the goals of the group and provide a perspective on the impact of the current public health crisis on our membership, which includes over 800 members throughout the leather industry, including brands and retailers, leather manufacturers and traders, supplies of chemicals, machinery and testing, as well as associations and technical experts.
The seminar will take place on Wednesday 22nd July 2020 at 13:00-16:30 CET. The event is split into two separate sessions, for which you must register separately.
To register for the first session (13:00-14:45) of the seminar, click here.
To register for the second session (15:00-16:00) of the seminar, click here.
Please note that even if you can only make one session, your registration will give you access to a recording of the presentation at a later time.
Category: News