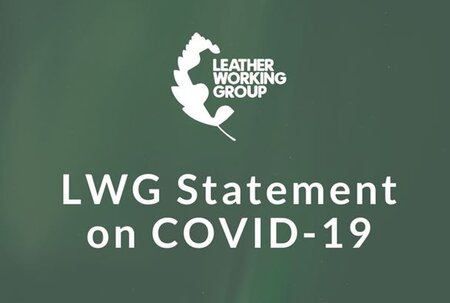 Since the inception of the Leather Working Group in 2005, we have supported stakeholders across the global leather industry to provide confidence in your supply chains. Over recent weeks, our organisation and many member companies have felt the impact of the coronavirus (COVID-19) on business.
We wanted to reach out to all of our members to reassure you that we, as a group, are taking a pro-active approach to keep our staff safe and maintain full operational capacity.
Here's what we have done so far:
Cancelled the LWG Member Meeting in Hong Kong, following the cancellation of the Asia Pacific Leather Fair. This meeting was replaced by an online webinar on 26th May 2020. Member can view the slides and recording of the webinar in the LWG Member Area.

Placed a ban on all non-essential travel and introduced working from home where possible for our office staff.

Granted an automatic 12-month audit certificate extension for all currently certified leather manufacturers

The Technical Sub Group (TSG) is examining the possibility of temporary, alternative auditing techniques during this period of uncertainty
We will continue to hold monthly conference calls with our governance and technical committees, to ensure the group continues to run as usual. In addition, we will pivot our training scheme to provide more digital materials in lieu of physical workshops.
By monitoring the situation and working closely with our members, we aim to maintain the level of support we provide to the industry and ensure the credibility of our environmental certification process.
If you have any queries at this time, please get in touch with the LWG team directly, via info@leatherworkinggroup.com
We will provide further updates as the situation evolves.
Category: News