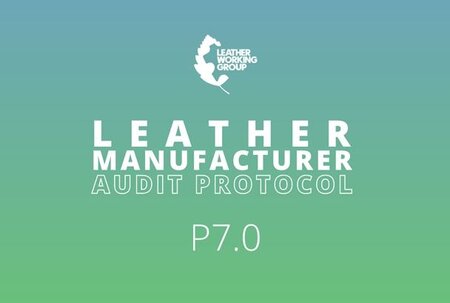 The Leather Working Group's flagship environmental certification is evolving, with the release of an updated auditing standard for leather manufacturers, featuring more robust criteria and new social, traceability and chemical management requirements.
Covering approximately 25% of global finished leather production, and with over 680 leather manufacturers under LWG-certification already, the Leather Working Group represents the largest network of environmentally audited tanneries across the globe, providing brands with a responsible global supply chain.
Since 2005, the LWG has been a world leader in driving environmental best practice across the leather industry. With the publication of the LWG Leather Manufacturer Audit Protocol 7.0 (P7), the group builds on its foundation of robust environmental criteria and adds new requirements for social responsibility, material traceability, and chemical management.
After a six-month period, Protocol 7.0 will replace the existing Protocol 6.7 from 22 August 2021, becoming mandatory across all audits of leather manufacturing facilities.
"With increasing demands on the leather industry, we felt it was our responsibility to continue to drive change and promote a higher level of excellence," said Christina Trautmann, Operations Manager at the Leather Working Group.
"When we started working on P7, we set out to address some of the key challenges across the industry, as well as anticipate changes on the horizon. With our increased scope and updated requirements, we hope to provide brands with a more secure, end-to-end supply chain, and reassure consumers they are supporting responsible business."
Some of the major changes in Protocol 7.0 include:
Chemical Management: The LWG Chemical Management Module, previously a standalone assessment, has been fully integrated into the main audit protocol. Our requirements are fully aligned with AFIRM's risk based RSL for leather. Additionally, all LWG certified members have been granted free access to the ZDHC Gateway, that they will be able to use during an audit to demonstrate their MRSL compliance.


Traceability: The existing traceability section has undergone significant revision and now becomes an integrated scored section, with additional due diligence measures to tackle deforestation risk. This has been developed in collaboration with the National Wildlife Federation. We have also included additional levels of traceability to start assessing a broader scope for leather traceability. With the formation of the Traceability Working Group, and continued collaboration with NGOs, we are planning to develop these requirements even further in future versions of the protocol.


Social Responsibility: For the first time, LWG will recognise third-party social audit certifications as a scored element in the protocol. We recognise this is a critical element of responsible sourcing and we will now be covering both the environment and social responsibility with the LWG audit. As this is a new requirement, we will be gradually increasing the level of importance within the audit, to become more critical in P8, planned for release 12 months after P7.


Effluent Treatment: Management of all waste and discharges to the environment are a critical part of the LWG assessment as they impact the environment directly. We therefore strive to ensure a very high standard is met by all tanners, independent of the country they're in. For P7, we've introduced stricter requirements for the treatment of effluent and differentiate our criteria between direct discharge from on-site effluent treatment plants and indirect discharge from central and municipal effluent treatment plants.

Ian Scher, VP of Procurement at PrimeAsia Leather Co. and Chairman of the LWG Executive Committee added: "Over the years, our Protocols have constantly expanded in conjunction with the demands of our industry and those who consume our industry's products. This new Protocol represents the most important and major evolution in our certification requirements to date. Protocol 7 will set a unique and unmatched bar in terms of providing an all encompassing surety of supply for those who source from accredited leather manufacturers under our program."
For more information about Protocol 7.0 and the changes to the audit standard, please visit the P7 page on the LWG Website. Certified members of LWG will be able to start to prepare for their P7 audit, by downloading a copy of the protocol once logged in to the site using their membership registration details.
In addition, LWG will host duplicate webinar sessions on 24 and 25 February 2021 to provide further details on the new protocol in your time zone. Please make sure to sign up to reserve your place and learn more about P7.
About the Leather Working Group (LWG)
The Leather Working Group (LWG) is a membership organisation composed of over 1000 members across the leather value chain, including leather manufacturers, brands and retailers, suppliers, traders, and associations. The group develops and maintains audit certification standards to assess the environmental performance of leather manufacturing facilities and helps to promote responsible business practices throughout the leather supply chain.
For more information about the Leather Working Group, please visit the LWG website, here: https://www.leatherworkinggroup.com/
Category: Audits