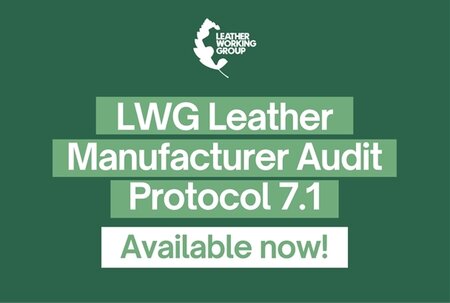 The LWG Leather Manufacturer Audit Protocol has been updated to Version 7.1 (P7.1).
Version 7.0 of the LWG Leather Manufacturer Audit Protocol (P7) was published on 22 February 2021. After receiving feedback from our membership and auditing team, the LWG Technical Sub-Group (TSG) has made some minor updates. After the standard 6-month period, P7.1 will replace P6.7 on 22 August 2021.
Protocol 7.1 includes additional clarifications and minor amendments in several sections, including:
Audit Introduction
Page ii
24-Month Data Period: Clarified how the 24-month mandatory data period will be phased in over time. There is more information on this here.

Batch Definition: Clarified LWG's definition of a 'batch' of leather, as referenced in several sections.
Page ii
CETP Issues: Advised that audits cannot be carried out on facilities that discharge their wastewater to a CETP that LWG has determined as being a concern or risk.
Page iv
Audit applicability for subcontractors: Any subcontractor using chemicals in their production process will be audited using the LWG Leather Manufacturer Audit Protocol.

Limits of the Subcontractor Audit Protocol: Identifies the limits and responsibilities when using the Subcontractor Audit Protocol to assess a company.
Section 4 — Operating Permits
Page 14, Table 11
Due diligence on violations: Added an additional requirement to check national registers for environmental violations.
Section 7 — Traceability (Outgoing)
Page 34, Q1
Physical marking requirements: As a minimum, the LWG will only consider a batch of leather traceable if each hide/ skin is marked with a code that allows the following information to be identified:
the recipe sheet

the type of material
the origin of the material (immediate supplier)
Section 9 — Restricted Substances, Compliance & CrVI Management
Page 46, Q36
In-house CrVI testing: Amended options to allow tanneries to use either their own internal laboratory, or an accredited third-party laboratory.
Section 13 — Waste Management
Pages 77-78, Q14-24
Waste Hierarchy: Multiple options included across Question 14 to 24 based on a waste hierarchy which prioritises recycling, then recovery, and the refuse as below:
Recycle – material that cannot be reused into other products

Recover – raw material (i.e. heat energy for example from oils or solvents that cannot be recycled)

Refuse – any material that can only be disposed of (provided disposal is safe and legal)
To download the full P7.1 document, please visit the Protocol Documentation page.
Category: News