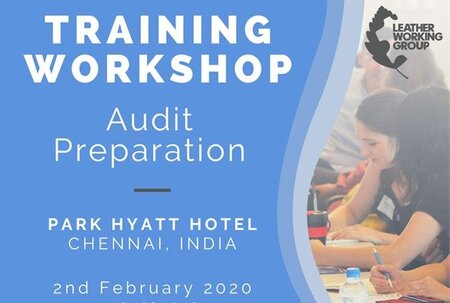 Since 2005, the Leather Working Group (LWG) has promoted environmental best practice across the whole supply chain of the leather industry through a range of auditing tools. Due to the growing scope of the group, LWG launched a training programme in 2019 comprised of workshops and digital content.
Following the provision of the first two training workshops in 2019, LWG has now developed new modules focused on audit preparation and chemical management. Two half-day workshops based on the new modules will be held at the Park Hyatt hotel in Chennai, India on Sunday 2nd February 2020.
The morning workshop will focus on the LWG Audit Preparation training module, designed to educate tanneries on how to appropriately prepare their facility ahead of an audit against the LWG Environmental Audit Protocol (EAP). The workshop will cover scoring within the protocol, automatic failures and penalties, how to create an environmental management system, and the types of evidence required as part of the audit.
The afternoon workshop will cover the LWG Chemical Management Module, which will detail risks and hazards associated with common tannery chemicals and how the LWG Environmental Audit Protocol considers the management of these chemicals within its system. As the LWG Chemical Management Module (CMM) will be integrated into a future version of the main audit protocol, this workshop would be particularly useful to all leather manufacturers, whether they are already members of LWG already or whether they are new to the programme.
"The Leather Working Group aims to further promote environmental improvement within the leather industry by providing comprehensive education and training on topics relevant to environmental responsibility in leather manufacturing," said Deborah Taylor, LWG Manager. "We are looking forward to welcoming attendees to learn about chemical management within tanneries and how to prepare for the LWG audit at our workshops in Chennai."
Visit the LWG website now to register for our educational training workshops and learn more about the LWG programme as a whole: https://www.leatherworkinggroup.com/meetings/member-meetings
The Leather Working Group (LWG) is a membership organisation comprised of brands, leather manufacturers, traders, suppliers and technical experts that aims to improve environmental standards within the leather industry. LWG provides audit protocols that assess the environmental compliance and performance of leather manufacturing facilities and promotes sustainable environmental business practices throughout the leather supply chain.
Category: News