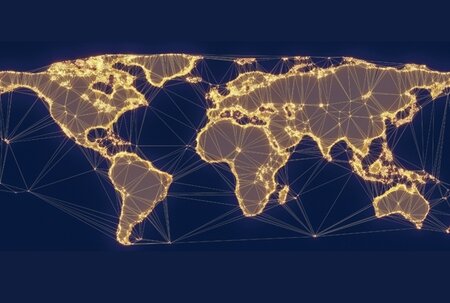 20 November 2021, Northampton, UK — A new mapping project will be the first to thoroughly evaluate the leather industry and its impacts on deforestation. Last week, leaders and activists from around the world met at COP 26, adding momentum to the urgent need for the global community to end deforestation and advance more sustainable outcomes for people and the planet. The project, a collaboration between National Wildlife Federation, World Wildlife Fund (WWF), Leather Working Group (LWG) and the Gibbs Land Use and Environment Lab (GLUE) at the University of Wisconsin-Madison (UW), will tackle deforestation and its links to leather supply chains.
The group is united in their goal to support the leather industry to achieve deforestation-free and conversion-free (DCF) supply chains, by providing support for companies to shift to DCF leather supply chains through strengthening and building on existing commitments. The collaboration will also provide assistance for companies to engage their supply chain partners to foster a shared vision, including making time-bound commitments aligned with the Accountability Framework initiative (AFi), and following through with tangible implementation.
Simon Hall, Director of the Tropical Forests and Agriculture Program at the National Wildlife Federation, emphasized the importance of this work and highlighted the need for collective action throughout the value chain, saying:
"We are facing a climate crisis on top of a biodiversity crisis and deforestation is at the center of both. Implementing deforestation-free production and sourcing practices is a critical part of the solution and it will take collective action from companies up and down the value chain to achieve this goal. We are very excited to collaborate on this project and look forward to continuing to support companies who want to step up and demonstrate leadership on these critical issues."
The project will engage the expert knowledge and experience of the team from the Gibbs Land Use and Environment Lab to map and assess the latest data related to deforestation in the Brazilian Amazon and Cerrado, and Paraguayan Chaco. The broader group will then develop a framework to enable stakeholders to interpret the mapped data for stakeholders to utilise with a due diligence assessment tool for deforestation risk management that LWG will create.
The Leather Working Group (LWG) aims to facilitate improved traceability and transparency in the leather supply chain through the LWG Leather Manufacturer Audit and engagement of stakeholders. A key priority for the LWG is working towards fully deforestation- and conversion-free (DCF) leather supply chains through the due diligence measures that are required as part of the LWG Audit. LWG's latest audit protocol, P7, has strengthened requirements where skins or hides originate from areas at high risk of deforestation. These are part of incremental requirements that will be driven forward as LWG develops its Traceability Roadmap.
Holly Gibbs, Director of the Gibbs Land Use and Environment lab at the University of Wisconsin-Madison described the commitment of the group and highlighted the exceptional opportunity to move cattle traceability and zero-deforestation production ahead. She said:
"By bringing together industry leaders, academics, and civil society, we are well positioned to make positive change in the leather sector."
The project will serve as the basis for a gap analysis by which companies will then be able to align with LWG's roadmap with clear targets and actions to fulfil the goals of their DCF commitments. The LWG is currently developing their Traceability Roadmap and plan to publish this in early 2022.
This work aims to bring further transparency to the regions in focus and serves as an open invitation to encourage all stakeholders, from brands to leather manufacturers to meatpackers, to engage more on collective solutions that can help secure deforestation-free sourcing of leather.
Mauricio Bauer, Senior Director of Beef and Leather Supply Chains with WWF believes:
"This work is an important step forward to achieve zero deforestation supply chains for leather originated from threatened geographies. The approach chosen by the Leather Working Group, partnering with conservation NGOs and academia, aiming to address deforestation in an open, science based, data-driven way, is a substantial contribution to the leather sector as a whole."
Christina Trautmann, Programme Manager for the Leather Working Group (LWG) explained the importance of this collaborative project:
"The LWG is committed to support its members to understand and address deforestation in leather supply chains. It is crucial that we do this in an inclusive way that provides accurate data and tools to leverage positive change. By prioritising our traceability work and working in partnership with expert partners such as the National Wildlife Federation and WWF, the LWG is forging a path for the leather sector to address the rallying call of the climate crisis."
About the National Wildlife Federation
Founded in 1936, the National Wildlife Federation is America's largest and most trusted grassroots conservation organization with more than six million members and supporters. For the past thirty years, the NWF has worked internationally to protect wildlife habitat in key regions of the tropics. NWF works with local partners and other leading groups to help eliminate tropical deforestation and human rights abuses associated with the production and trading of key agricultural commodities
About World Wildlife Fund (WWF)
WWF is one of the world's leading conservation organizations, working in nearly 100 countries for over half a century to help people and nature thrive. With the support of more than 5 million members worldwide, WWF is dedicated to delivering science-based solutions to preserve the diversity and abundance of life on Earth, halt the degradation of the environment and combat the climate crisis. Visit www.worldwildlife.org to learn more and keep up with the latest conservation news by following @WWFNews on Twitter and signing up for our newsletter and news alerts here.
About Gibbs Land Use and Environment Lab, University of Wisconsin-Madison (UW)
The Gibbs Land Use and Environment Lab at the University of Wisconsin-Madison, led by Drs. Holly Gibbs and Lisa Rausch, is an interdisciplinary research team that has been leading cutting edge traceability and supply chain research for over a decade. This team was the first to evaluate outcomes from Brazil's soy and cattle moratoria, and pioneered Data Science approaches to link environmental and transactions data together at the property level. In addition, UW partnered with NWF to create Visipec, a traceability tool used by Brazil's cattle sector to better address deforestation. For more information: www.gibbs-lab.com
About Leather Working Group (LWG)
The Leather Working Group (LWG) is a membership organisation composed of over 1400 members across the leather value chain, including leather manufacturers, brands, suppliers, traders, and associations. The group develops audit certification standards to assess the environmental performance of leather manufacturing facilities and promotes responsible practices in the leather supply chain. For more information about the Leather Working Group, please visit the LWG website: https://www.leatherworkinggroup.com/

Resources
Press Contact
Category: News