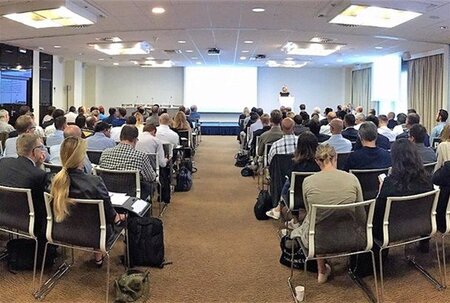 The LWG, now in its 13th year, held its second full Member Meeting of 2018 in Milan, Italy on Friday 28th September, immediately following the Lineapelle Leather Fair. The full day conference was attended by over 110 delegates, following a productive week of LWG meetings, including a two-day LWG Auditors Meeting and meetings of the Supplier Sub-Group (SSG), Animal Welfare Group (AWG) and the Executive Committee (EC). A Networking Reception was also hosted to allow members to gather in a more informal setting.
Delegates were briefed on the increased membership and scope of LWG, noting that the group has continued to see healthy growth in the number of members across all sectors, as well as additional protocols and areas of work, including the Trader Protocol, the Chemical Management Module (CMM) and the development of a CETP Assessment Tool. The LWG environmental audit remains the keystone of the organisation and members were updated on details of the key changes contained in the next update to the Environmental Audit Protocol, P6.6.
P6.6 was published on the LWG website on 1st October 2018 and will be mandatory for use during audits from 1st April 2019. P6.6 contains some significant changes, including housekeeping requirements, which will become part of the critical scoring sections within the protocol, plus physical marking, water flow measurement, and salt discharge. In addition, the updated protocol will require mandatory photographic evidence for some questions and disclosure of all sub-contractors.
The meeting was also attended by ZDHC and Christina Raab gave an update of the collaboration between the two organisations and on ZDHC's progress with leather related topics. Everlight Chemical Industrial Corp. also presented, explaining how they are meeting the increased challenges and requirements of ZDHC and the CMM.
The delegates also engaged in interesting dialogue during panel discussions, drawing on different perspectives across the membership and discussing future goals and directions.
The Leather Working Group now has over 550 members, including 420 leather manufacturers under audit, over 70 supplier members and over 60 Brand members (representing over 100 individual companies). The group continues to meet growing needs and provides a mechanism for environmentally preferred leather, produced by responsible manufacturers that have been assessed for appropriate environmental stewardship practices.
The next LWG Main Member Meeting will take place in Hong Kong, on Saturday 16th March 2019. The meeting will be held adjacent to the Asia Pacific Leather Fair (APLF).
For further information on how to engage with LWG, please visit www.leatherworkinggroup.com
Category: News