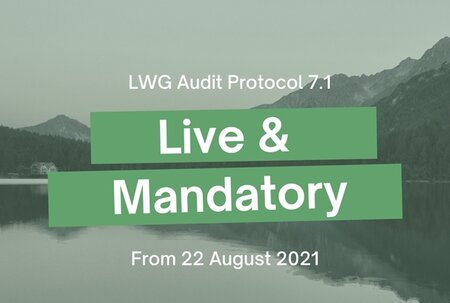 23 August 2021
The latest version of the Leather Working Group's flagship audit standard, the LWG Leather Manufacturer Audit Protocol 7, became mandatory on 22 August 2021. Representing a major evolution, P7 provides a more holistic assessment of a tannery's performance, with more robust criteria across the board and newly added requirements for social responsibility, effluent treatment, material traceability, and chemical management.
First published in February 2021, Protocol 7 was refined during a period of public consultation and replaced by P7.1 on 6 July 2021. P7.1 replaced the existing Protocol 6.7 as of 22 August 2021, becoming mandatory for all audits of leather manufacturing facilities.
While continuing to address many critical environmental, social, governance, and compliance issues, our new standard goes further than ever before to incorporate traceability, chemical management, social responsibility, governance and health and safety into its medal rating criteria. It also demands more from our members in terms of managing energy and water usage, air emissions and effluent discharges.
Christina Trautmann, Programme Manager of the Leather Working Group, said: "Protocol 7 is not just a natural evolution of our existing auditing standard, but rather a revolution in what we consider to be a responsible leather manufacturing facility. We set out to tackle major challenges across the leather industry, with the ultimate goal of providing brands a more secure supply chain and giving consumers assurances they need."
In addition, Ian Scher, Chair of the LWG Executive Committee and VP of Procurement at PrimeAsia, said: "Protocol 7 will set a unique and unmatched bar in terms of providing an all-encompassing surety of supply for those who source from accredited leather manufacturers under our program."
Key changes under Protocol 7 include:
Chemical Management: Previously a standalone assessment, the LWG Chemical Management Module has been fully integrated into Protocol 7, and we have aligned with the ZDHC MRSL and AFIRM risk based RSL for leather.


Effluent Treatment: For P7, we've introduced stricter requirements for the treatment of effluent and differentiate our criteria between direct discharge from on-site effluent treatment plants and indirect discharge from central and municipal effluent treatment plants.

Social Responsibility: A major expansion of our scope, we will recognise third-party social audit certifications within the LWG Audit Protocol for the first time. The impact of social responsibility on the LWG Audit will increase in future iterations of the audit standard, to reflect the critical importance of the topic.


Traceability: Our traceability requirements have seen significant changes, with the existing section now contributing to the audit score, and the addition of further additional due diligence measures to address deforestation risk. P7 also introduces a more nuanced approach to consider different levels of traceability that are theoretically achievable, depending on the region, farming practices, and more.
For more information about Protocol 7 and the changes to the standard, please visit the P7 page on the LWG Website. LWG Members can download a copy of the audit protocol from the LWG website.
About the Leather Working Group (LWG)
The Leather Working Group (LWG) is a membership organisation composed of over 1300 members across the leather value chain, including leather manufacturers, brands and retailers, suppliers, traders, and associations. The group develops and maintains audit standards to assess the environmental, social and governance performance of leather manufacturing facilities and helps to promote responsible business practices throughout the supply chain.
For more information, please visit the LWG website, here: https://www.leatherworkinggroup.com/
###
Category: Audits