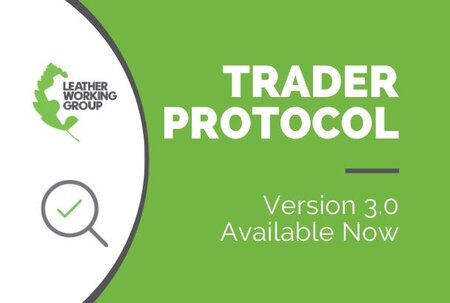 LWG is pleased to announce the launch of Version 3.0 of the LWG Trader Protocol. This edition is suitable for the following types of operation:
Traders who buy raw or part-processed material and sell it on to customers in a part-processed state
Traders who buy part-processed or finished material and sell it on to customers in a finished state
Traders who buy raw or part-processed material, send it out for sub-contract operations and then sell it on to customers in a finished state
To be eligible for this Audit, Traders must:
Have a permanent warehouse facility where material is brought in before dispatch to customers
Be able to demonstrate physical and administrative separation of material that originates from LWG-certified facilities and material from non-LWG certified facilities
You are NOT eligible for a Trader Audit if you:
Buy and sell raw material only (these traders perform no production and are therefore outside of LWG's scope)
Buy and sell material in any state shipping direct from supplier to customer (i.e. a Paper Trader only).
Material Traders and Paper Traders can join LWG through the supplier subscription route to membership - which does not confer certified status but does allow traders of this nature to participate in the work of LWG and provides access to the member benefits. Raw Hide/Skin Traders and Paper Traders (who do not process any material) are considered "Agent Traders" within LWG's membership.
Please note that this route to membership does not entitle the Agent Trader to market their business as an audited LWG facility, but as a Member of Leather Working Group only.
For more information about becoming a member as an Agent Trader please visit our suppliers page.
If you are unsure of the appropriate route to membership for your type of trade, please email: info@leatherworkinggroup.com
Key Changes:
Removal of the 2-tier audit (separated and combined storage traders). All traders must now demonstrate separation of material from LWG and non-LWG certified facilities

Mandatory minimum response from LWG suppliers and LWG customers for verification of volumes

Removal of the desk-based interim audit. All audits will be performed on-site
Trader Protocol Notes:
For a trader to achieve a 100% score, all material must be physically marked at source, to demonstrate reasonable separation of LWG-origin material. There will be 5% reduction if material is physically marked incoming to the trader facility, with a further 5% reduction if the only method by which LWG material is differentiated is through paperwork and physical separation at the trader facility.

There is a 6-month introductory period, during which time existing Approved Traders can choose to be re-audited under V2.0.3 or the new V3.0. However, Finished traders and first-time auditees must be audited against V3.0.

Desk-based audits that are already scheduled may go ahead, but no further desk-based audits will be allowed after 1st December 2019.
View the LWG Trader Protocol 3.0 document here.
Category: News