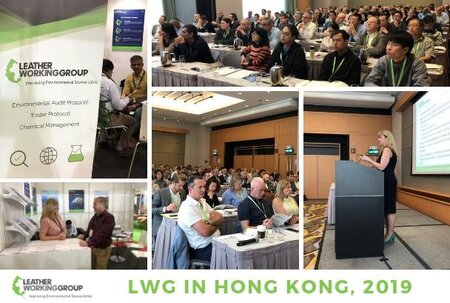 In March 2019, the Leather Working Group (LWG) spent a busy week in Hong Kong: first exhibiting at the Asia Pacific Leather Fair (APLF) over 13-15th March and then hosting meetings and events for LWG members on 15-16th March 2019.
APLF
Based at the Hong Kong Convention and Exhibition Centre (HKCEC), LWG hosted an exhibition stand at APLF, providing information on its environmental programme to new and existing members. The group received over 60 enquiries from across the leather supply chain, with growing interest from Turkey and Pakistan.
In addition, Ricky Wilby and Samir Gaur, LWG-approved auditors, were on hand to offer technical advice and support regarding the LWG main Environmental Audit Protocol for leather manufacturers and the Trader Audit Protocol for part-processed material traders, aimed at improving traceability and trackability in the supply chain.
LWG also introduced a new promotional brochure and a guidance document on housekeeping standards in leather manufacturing facilities.
LWG Sub-Group Meetings
In conjunction with the fair, LWG hosted a series of sub-group meetings, allowing members of the Animal Welfare Group (AWG), Supplier Sub-Group (SSG), and the LWG Executive Committee (EC) to meet face to face and to discuss issues relevant to the whole leather supply chain. Indeed, the members of our sub-groups provide a wealth of knowledge and experience to help direct the group and make recommendations on a range of technical issues.
LWG Main Member Meeting
Immediately following APLF and the LWG sub-group meetings, LWG welcomed 126 delegates to its Main Member Meeting on Saturday 16th March 2019.
Our Main Member Meetings bring together members across different sectors of the leather industry who share LWG's aim of improving environmental stewardship in leather manufacturing. Our members include leather manufacturers, traders, chemical and machinery suppliers, brands and retailers, technical experts and testing and compliance companies.
The agenda for the day provided an update on the activity of the group since the previous Main Member Meeting in Milan, in September 2018. This included a benchmarking status review, the details of the most recent version of the audit protocol (P6.6.1), the plans for the next major uplift of the audit protocol (P7.0), member perspectives, and the announcement of new initiatives and collaborations.
In particular, LWG announced jointly with the Tannery of the Future Foundation that the group will undergo an intensive collaboration to integrate the Tannery of the Future sustainability checklist into the LWG programme.
LWG also hosted an informal networking reception for its members, hosted this year at the Renaissance Harbour View Hotel, Hong Kong. This was an opportunity for members and the facilitation tam to talk in a more relaxed setting about the issues and areas of interest.
Members can access the presentations decks from meeting by logging in to the Member Area of the LWG website.
For queries relating to LWG at APLF or the 2019 LWG Hong Kong Main Meeting, please direct your correspondence to the LWG Meetings & Events Coordinator via: jennifer@leatherworkinggroup.com
Category: News