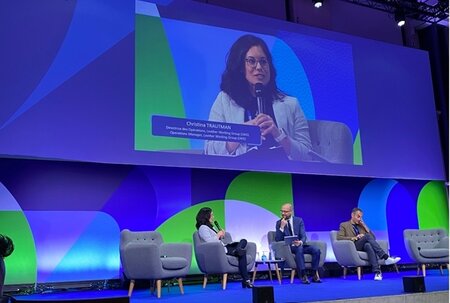 On Monday 13 September 2021, the Leather Working Group team attended the third annual Sustainable Leather Forum in Paris, France.
Hosted by the Conseil National du Cuir (CNC) at Palais Brongniart, the event brought together over 250 individuals representing major manufacturers, brands, certifications and other related organisations to discuss the future of the leather industry.
The event covered topics related to sustainable and responsible leather production and consumption, such as:
Veganism and animal welfare

Deforestation, carbon footprint and Leather Life Cycle analysis

Sustainable production and sourcing in sport and leisure markets

Transparency and consumer information: positive ways to communicate with stakeholders
Christina Trautmann, Programme Manager for the Leather Working Group, joined a panel that focused on options to assess and tackle issues of deforestation, carbon footprint and leather life cycle analysis alongside Mauricio Bauer from the World Wildlife Fund (WWF) and Regis Lety from CTC Groupe.
Keynote speeches on deforestation from WWF expressed the urgency for the leather and beef sectors to work together for traceability to be adopted at scale to help address the climate crisis. With Bettine Laville from Comite 21 setting the context regarding the UN's Sustainable Development Goals and their relevance to sustainable leather production. Whilst Michael Meyer of the FILK Freiberg Institute presented research into the properties and technical performance of leather and 'leather alternatives'.
The event was hailed a great success being one of the first opportunities to for the industry to meet in person following the global pandemic. The Leather Working Group was delighted to participate and see the commitment of stakeholders across the sector to deliver environmental and social change.
Category: News