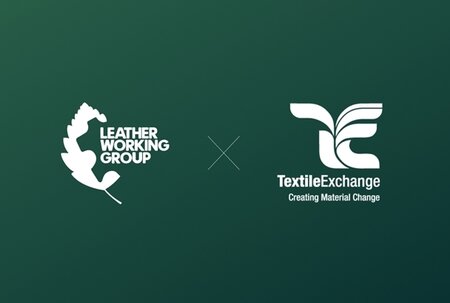 Northampton, United Kingdom — 22 July 2021: The Leather Working Group, the world-leading certification for the leather manufacturing industry, has agreed a partnership with Textile Exchange to grant reciprocal membership of their respective organisations, to drive alignment, and facilitate better collaboration and resource sharing.
The agreement will provide each organisation with reciprocal membership, allowing them to access each other's resources, join member-only events and discussions, as well as foster a stronger working relationship to reduce the impact of the leather industry.
Previously, the LWG signed a Memorandum of Understanding (MoU) with Textile Exchange in 2018, to align their efforts for driving environmental improvement in tannery operations and leather manufacturing. Since then, the partnership has developed, as LWG joined the Responsible Leather Round Table and helped Textile Exchange to create the Leather Production Environmental Standards Benchmark for the Leather Impact Accelerator (LIA), based on the LWG Audit Standard.
"Through the dedication of the technical experts that make up the LWG Technical Sub-Group, our audit standard will continue to be developed to ensure it remains relevant, valuable, and impactful within the leather industry. We can only address the challenges facing the leather industry by engaging multiple different stakeholders across the supply chain and driving alignment, and we are committed carry on working in collaboration with Textile Exchange as their benchmark is developed." said Christina Trautmann, Programme Manager of the LWG.
Anne Gillespie - Director of Impact Acceleration, Textile Exchange, said: "Textile Exchange respects the work Leather Working Group has done to provide solutions to address sustainability in leather production and value the support they have given us in the development of the Leather Impact Accelerator. We look forward to future opportunities for collaboration!"
By admitting Textile Exchange as a member of the Leather Working Group, they will be able to actively take part in the LWG's activities, contribute to working groups on specific topics of value to the industry, as well as access the LWG Audit Standards and other technical documentation. Conversely, the LWG is now able to join the Textile Exchange Hub, a secure portal for members of the textile and leather industries to share knowledge and resources.
Both organisations were granted the reciprocal membership as of 1 July 2021 and plan to continue for the foreseeable future.
About the Leather Working Group (LWG)
The Leather Working Group (LWG) is a membership organisation composed of over 1250 members across the leather value chain, including leather manufacturers, brands, suppliers, traders, and associations. The group develops audit certification standards to assess the environmental performance of leather manufacturing facilities and helps to promote responsible business practices throughout the leather supply chain. For more information about the Leather Working Group, please visit the LWG website, here: https://www.leatherworkinggroup.com/
Press Contact
PDF Press Release
Download a PDF version of this press release here.
Category: News