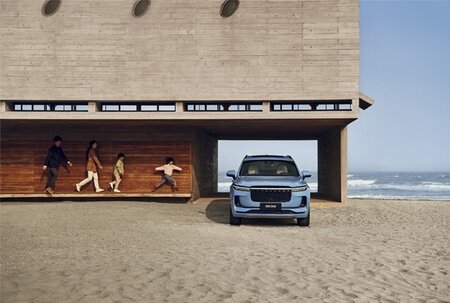 Milton Keynes, United Kingdom — 23 May 2022: Li Auto becomes the first China-based car brand to join Leather Working Group and the third automotive manufacturer member committed to responsible leather sourcing.
As a leader in China's new energy vehicle market, Li Auto joins Leather Working Group (LWG) to affirm its commitment to sourcing responsible and sustainable leather. Innovation drives sustainable development at Li Auto, who design, develop, manufacture, and sell premium smart electric vehicles, providing families with safe, convenient, and refined products. Delivering over 90,000 vehicles to the Chinese marketplace in 2021, Li Auto places great importance on the environmental and social impacts of the business and builds synergies with stakeholders to develop sustainability and low-carbon goals, which are directly reflected in their products.
"Li Auto was determined to join Leather Working Group to put local responsibility of low-carbon and environmental sustainability into practice. Li Auto will actively participate in promoting industrial traceability and developing more environmentally friendly products based on the Leather Working Group platform," said Li Auto.
Recently, Leather Working Group (LWG) has seen growing interest from the automotive sector in sourcing leather responsibly. As many car brands continue to assess the environmental impact of their products, the materials they use are continually evaluated by automotive OEMs for their sustainability credentials.
LWG welcomes Li Auto into its diverse global community of over 1,700 members from across the leather industry, including leather manufacturers, brands, retailers, leather traders, suppliers, associations, and NGOs. LWG focuses on providing its members with a pre-competitive ecosystem where exchanging knowledge and shared learning plays a key role in both promoting innovation towards achieving forward-thinking sustainability goals, and evolving the leather industry through the continuous development of the Leather Manufacturer Audit standard.
"We are pleased to engage with our first automotive OEM of new energy vehicles in China. Li Auto's membership signifies a growing trend by automotive OEMs to commit to sourcing responsibly made leather, and to support a not-for-profit community like Leather Working Group to evolve the industry, for a brighter, more sustainable future with leather" - Christina Trautmann, Head of Leather Working Group.
LWG members are key to innovation
By joining Leather Working Group (LWG), businesses play a core role in creating a future for responsibly sourced leather through active participation and engagement with different LWG programs, including working groups and subgroups.
LWG experts, in partnership with members, associations, NGOs and academic organizations have created a suite of world-leading tools for the leather industry. LWG are the first in the world to begin developing chain of custody for leather; the first in the world to conduct the largest ever lifecycle analysis for leather and have begun constructing a global due diligence framework empowering LWG members to have greater visibility and supply chain transparency. These innovative tools will provide LWG members like Li Auto with unparalleled access to data and information about the leather industry, enabling them to secure their leather supply chain and make responsible sourcing decisions.
Press contacts
If you would like to get in touch with us, please email communications@leatherworkinggroup.com
Jennifer Thorpe, Marketing & Engagement Manager

Jen Toes, Communication & Events Lead
Category: News