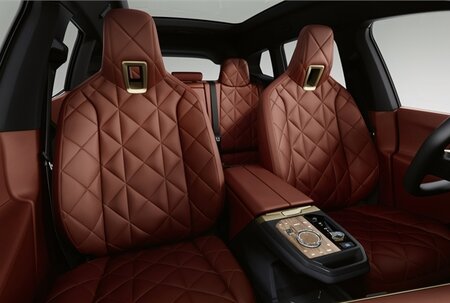 Northampton, United Kingdom — 27 January 2022: The world's leading manufacturer of premium automobiles and motorcycles, the BMW Group, has joined Leather Working Group as an automotive member.
With sustainability at the center of their future strategic direction, the BMW Group recently joined Leather Working Group (LWG) to support their long-term concept of sustainable mobility. The BMW Group has set itself the ambitious goal of creating the most sustainable supply chain in the entire industry. All the while, the BMW Group is conscious of meeting its responsibility for using ethically sourced leather within its automotive supply chain.
"As a leader in supply chain sustainability, joining Leather Working Group is the next logical step for us," says Nadine Philipp, BMW Group's head of Sustainability in the Supply Chain, Energy. She emphasized that: "Leather is still in demand from our customers – depending on the model and region – and is very important in the premium segment. That is why supporting sustainable production and processing of leather at our suppliers is a priority for us. At the same time, we still want all our customers worldwide to be able to choose the optimal product, so we also offer leather-free vehicle equipment options."
LWG is a global presence with audited facilities in 55 countries, which represent a quarter of the world's finished leather production. LWG welcomes the BMW Group into membership together with over 1,500 other organizations globally. The BMW Group's membership of LWG shows that they are choosing to take an active stance in driving excellence in environmental, social, and governance aspects of the leather industry.
The BMW Group, comprised of BMW, MINI, and Rolls-Royce, has established a clear set of science-based sustainability goals that they intend to implement by 2030, with CO2 reduction, electromobility, circularity, environmental and social standards, and social responsibility at the forefront. Delivering over 2.5 million vehicles a year to a global audience, the BMW Group values the technical input the LWG provides to support sustainable leather sourcing for the production of its vehicles and to minimize the production footprint.
"LWG is committed to supporting the BMW Group to meet their sustainability goals set out in the group's 2030 program, through our priority initiatives to drive supply chain transparency and reduce the environmental impact of leather. We are looking forward to a bright future working together to enhance the BMW Group's work and encourage responsible leather sourcing in the automotive OEM sector." Christina Trautmann, Programme Manager at Leather Working Group.
What does it mean to be a Member of Leather Working Group?
As a not-for-profit, membership-led organization, the needs of our members influence our strategy and the future direction of our work. LWG acts as an indispensable link between brands and leather manufacturers, encouraging a positive and collaborative dialogue to achieve realistic sustainability outcomes. This in turn, continually elevates best practice across the leather industry. LWG members also have input into our major projects such as the world's single largest LCA for leather, as well as the world's largest leather supply chain mapping project, run in collaboration with partner NGOs and academic organizations. We are also working on developing the LWG chain of custody for our members to help secure leather supply chain transparency.
The BMW Group can onboard their suppliers who can benefit from LWG affiliation. They can become certified to the LWG Leather Manufacturer Audit standard, which is the most credible environmental, social, and governance certification in the leather industry. In turn, this can provide the BMW Group with greater supply chain visibility as well as transparency, enabling the BMW Group to make responsible leather sourcing decisions.
Press contacts
PDF press release download here
Category: News