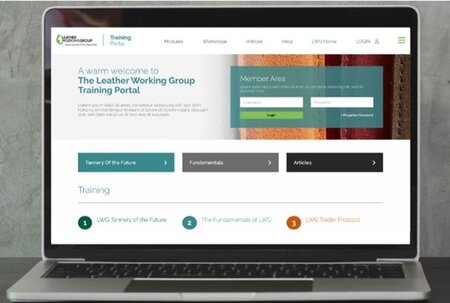 Leather manufacturers can now access an online training portal designed to support them in their journey towards environmental best practice.
The Leather Working Group (LWG) has launched a new online training platform designed to educate leather manufacturers and other members of the leather supply chain on responsible operating practices.
The LWG Tannery of the Future self-assessment has been developed by the Leather Working Group and supported by the Solidaridad Network. Solidaridad is also part of the decision-making sub-group for the development of the tool, to provide crucial insight and experience from an NGO perspective.
The first module to launch on the LWG Training Portal is a digitally accessible version of the "LWG Tannery of the Future – Are You Ready for an Audit?" tool, an evolution of the self-assessment document published by the group in 2019. Leather manufacturers will be able to complete the online self-assessment for a clear picture of their current performance, giving them the knowledge they need to improve.
In addition, Part A of the LWG Tannery of the Future self-assessment is fully aligned with the sections of the LWG Environmental Audit Protocol, which awards leather manufacturer performing to a high standard with a recognized audit certification. As such, leather manufacturers can use the new training module to understand their readiness to undergo a Leather Working Group audit.
Brands and retailers can make use of the new self-assessment too – by asking their suppliers to complete the online module as a first step towards improving their environmental and social performance.
The digital module for includes the following features:
Self-assessment tests

Downloadable training materials and links to external resources
Recordings of previous webinars

Guest account registration

Progress tracker
Once a leather manufacturer has fully completed the online self-assessment, they will receive a summary of their responses via email and will be granted a free, 2-year affiliate membership to the Leather Working Group – during which time they will be granted access to LWG meetings, communications, and additional training materials to allow them to improve their performance and prepare for an LWG Audit.
The addition of this training module will allow the Leather Working Group to continue driving towards environmental excellence within the leather industry.
About the Leather Working Group
The Leather Working Group (LWG) is a membership organisation composed of over 1000 members across the leather value chain, including leather manufacturers, brands and retailers, suppliers, traders, and associations. The group develops and maintains audit certification standards to assess the environmental performance of leather manufacturing facilities and helps to promote responsible business practices throughout the leather supply chain.
Support
The LWG Tannery of the Future self-assessment is kindly supported by the Solidaridad Network. We are proud to work with Solidaridad and appreciate their continued input on the project.

Category: News