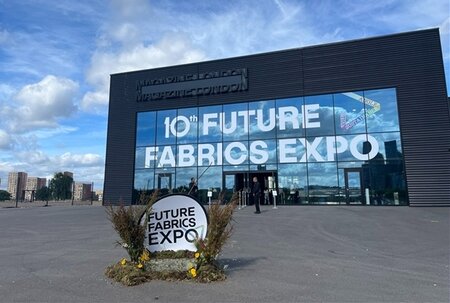 The LWG Team attended the 10th Future Fabrics Expo hosted by The Sustainable Angle at the Magazine London exhibition space in Greenwich, London over 28-29th June 2022. The Expo has gained significant momentum and grown to be one of the largest showcases for globally sourced sustainable fabrics and materials in recent years.
A packed speaker schedule addressed key themes of the event on how fashion can support biodiversity and regenerative systems. Inspiring insights were shared by Canopy's founder Nicole Rycroft and Parley for the Ocean's founder Cyrill Gutsche on the urgency for action by the apparel and footwear industry to clean up its act and ensure that both ancient and endangered forests are protected, and we protect our oceans from pollution and harm.
The exhibition highlighted to attendees that the global fibre basket lacks diversity with two thirds of our textile fibres being made from oil. Then going on to welcome attendees to a new material landscape: one that moves away from the exploitation of non-renewable resources and works in harmony with natural systems and cycles.
Further panel discussions focused on the road to COP27 and the urgent need for action and how the platforms such as the UNFCCC can influence major industries to change. Followed by interesting debate on regenerative agriculture and its potential to unlock nature-based solutions to many of the climate challenges.
We welcomed the opportunity to meet several our members at the event and to engage with other stakeholders to discuss the role of leather as a key natural and sustainable material.
Category: News