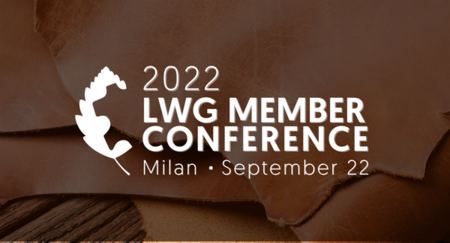 The 2022 LWG Member Conference on September 22, will allow Leather Working Group members to hear from expert speakers from across the leather industry on key sustainability topics. We are excited to have released our full agenda with information about all talks and our guest speakers.
LWG members can purchase their place and join us virtually or in person to learn more about a creating a pathway to a future with responsibly made leather:
Continuing Improvement:
As a world leader in the leather industry, we recognize the need to evolve, grow and change in ways that drive positive impact. The first session of our conference will explore our strategy for change by continuously raising standards, driven by key areas that require action.

Traceability In Focus:
Traceability is one of the most critical areas to address to date. Consumers want to know where the leather in their product comes from and that it has been sourced responsibly. This session will give a deep dive into the realities of driving transparency and developing a robust global due diligence framework for the leather industry. Both critical to facilitate better traceability, deforestation due diligence, and address other crucial issues across the leather supply chain.

Chain of custody:
To achieve even greater transparency within the leather supply chain, we need to ensure product sustainability claims can be verified. In this session, LWG will announce more details of their upcoming chain of custody project.

Responsible Chemistry:
Chemicals are used in the manufacture of many products, from your cell phone to your shoes. The LWG Member Conference calls for a greater understanding of chemical management and how we can all play our part in the responsible use of chemicals within the leather industry.

Environmental Impact: Monitoring and quantifying the environmental impact of leather as a material is crucial for setting and meeting goals for the future. Our conference will showcase how leather industry leaders are paving the way to zero through lifecycle assessments, innovation, circularity and more.
Get involved! Join our member conference today
Our conference will be hybrid, with both in-person attendance available for those able to travel to Milan, and a virtual attendance option available for those unable to travel. Members who purchase tickets will have access to the recordings online after the event.
The event will take place on Thursday, September 22, 2022, at the Fiera Milano exhibition center. Conference delegates are welcome to join us at the pre-conference networking reception from 18:00 on Wednesday, September 21, 2022, at the ClubHouse Restaurant, Business Centre, Fiera Milano.
Don't miss out on this exciting opportunity. Register now to reserve your place