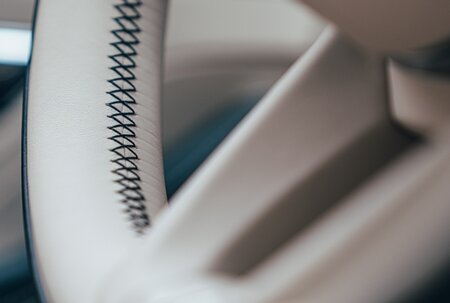 Northampton, United Kingdom — 25 August 2021: Bentley Motors leads the way for the automotive sector by becoming the first car manufacturer to join the Leather Working Group.
As part of their ambition to become the world's most sustainable automotive brand, British luxury car manufacturer Bentley has joined the Leather Working Group. As the first member from the automotive sector, Bentley leads the way for responsible leather use within the global automotive supply chain.
Bentley joins 190 other brands and retailers that have also become members of the Leather Working Group in support of LWG's efforts to drive excellence in environmental, social and governance aspects of the leather industry.
Founded in 1919, Bentley is prestigious luxury car manufacturer based in the United Kingdom. They have recently launched their 'Beyond100' strategy, which sets out their goals to become carbon neutral by 2030 and lead the way in sustainable automotive luxury by reducing the overall environmental impact of their production processes.
Christina Trautmann, the LWG's Programme Manager, said: "We are thrilled to have Bentley onboard the LWG. This is a positive first step for the automotive sector to address challenges within their material supply chain. We are keen to engage with the automotive OEMs and hope this will encourage others to engage with our programme."
Mark Cooke, Bentley's Head of Production Purchasing added: "The use of leather and coachbuilding are hallmarks of our hundred-year-old history. Our cutters and trimmers are experts in their fields and the fact that so many of our heritage models still exist with their original interiors, demonstrates the longevity of leather as a core material to us. As the first automotive member of the LWG, we look forward to working with the group to actively shape the future of sustainably sourced leather in our sector."
As a member of the Leather Working Group, Bentley will be provided access to our Member Area, which hosts various resources, including webinar slides and recordings, meeting minutes, technical advisory documents, and more. In addition, they will be able to join LWG's Member Meetings, contribute to our Sub-Groups on specific topics, and making customer-facing claims.
Bentley is now onboarding their leather suppliers through LWG certification, via the LWG Leather Manufacturer Audit Protocol 7.0 (P7), to ensure their leather supply chain is operating in a responsible manner.
About the Leather Working Group (LWG)
The Leather Working Group (LWG) is a membership organisation composed of over 1300 members across the leather value chain, including leather manufacturers, brands, suppliers, traders, and associations. The group develops audit certification standards to assess the environmental performance of leather manufacturing facilities and promotes responsible practices in the leather supply chain.
Download the PDF version of this Press Release here.
Category: News